Montefiore's Windmill was one of the first Jerusalem landmarks to be built outside the Old City walls.
It was built in 1857, where Mishkenot Sha'ananim would three years later become first neighborhood in Jerusalem outside the Old City.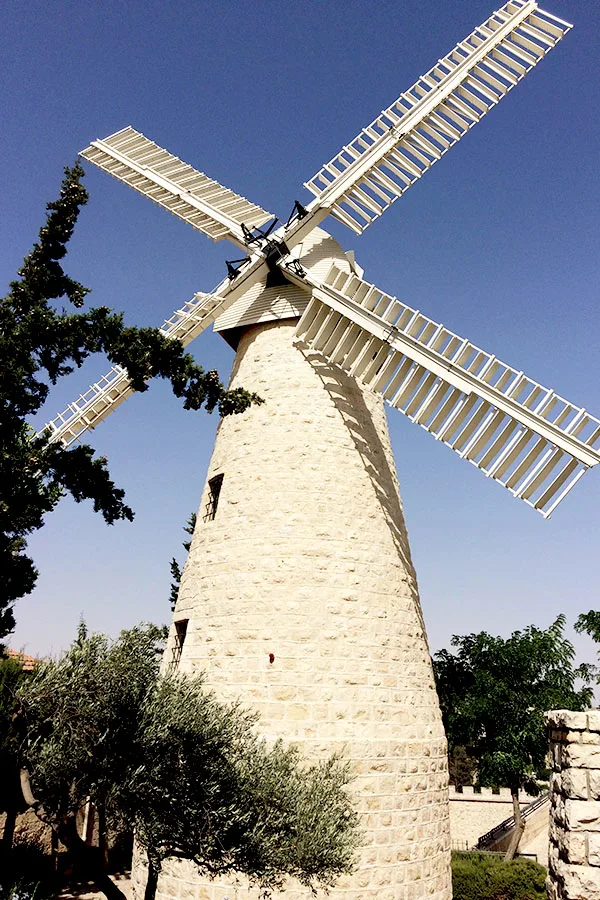 The windmill is named for Sir Moses Montefiore, a British Jewish banker and philanthropist who founded the windmill and Mishkenot Sha'ananim.
Montefiore devoted his life to promoting industry, education, and health in the Land of Israel.
This project was originally designed as a flour mill with the intent to help the Old Yishuv become more self-sufficient.
Montefiore, who was devoted to promoting industry in the Holy Land, also built a printing press, textile factory, and helped to finance several agricultural colonies.
He funded the windmill from the estate of an American Jew, Judah Touro, who appointed Montefiore executor of his will.
Parts were shipped to Jaffa, where there were no suitable facilities for landing the heavy machinery. Transport of the machinery to Jerusalem had to be carried out by camel.
The mill was not a success due to a lack of wind and the fact that the machinery was designed for soft European wheat, which required less wind power than the local wheat.
Still, the mill operated for nearly two decades until the first steam-powered mill was completed in Jerusalem in 1878.
During the 1948 blockade of Jerusalem, the Jewish Haganah fighters built an observation post at the top of the windmill.
British authorities responded by bombing the windmill, an assault titled "Operation Don Quixote."
However, as luck would have it, the unit tasked with destroying the windmill happened to be from Ramsgate, home to Montefiore's long-time residence.
When the soldiers saw the name of their hometown next to Montefiore's on a plaque on the building, they "re-interpreted" their orders and blew up only the observation post at the top of the tower, rather than the entire windmill.
Today, the windmill houses the Jerusalem Vineyard Wineries Visitor Center.
Nearby in a glassed-in room is a replica of Montefiore's carriage, which he used in his travels.
The original carriage was brought to Israel by Boris Schatz, the founder of the Bezalel Academy of Art, but was destroyed in an arson fire at the site in 1986.